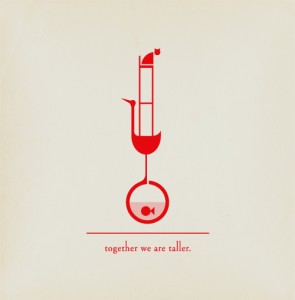 At long last the album is out.
This is what Muso's Guide say about it –
"There are real tracks of beauty to be found in Together We Are Taller… 'Happy Places' where Maddox demonstrates his ability to enchant with voice and instrument in perfect harmony. Meanwhile, 'Pandas Fighting' is a track that slowly grows under your skin with its quietly building rhythm.  The track climaxes with the violin playing on heartstrings as Maddox sings "I don't have far to fall, but I fall hard/And I believe its love every time". It's perhaps the most honest and relatable lyrics on the album and consequently makes the track the highlight of the album. Maddox shows in Together We Are Taller that he's without a doubt a good musician with glimmers of brilliance."
You can download it digitally on Amazon, Play, HMV, iTunes and Spotify, and loads of other places that I can't remember!
Physically you can get it from me, cheapo at a gig or online here.
With the physical artwork I couldn't fit in all the lyrics so I have put them on this site, here.
Also I couldn't fit this little story in the artwork so thought I would share it on here.
Thank you kindly. J:)x
"Well I never! An album! An actual album with my name on it! I think this is the first New Years Resolution I have ever fulfilled…
In 2008 I was living and working in Brighton, happily toiling away my days playing with my band Les Oeufs and introducing my new born cat, Radical, to all the earthly pleasures of a flat above a bookies.  Little did I know the whole credit crunch thing people had been going on about was not a tasty sandwich but a big bastard nightmare that got me, among many others, made redundant.
As you may well know, the best time to be melodramatic and creative is when you're down, so this is when I started using my new-found time to write some fresh songs.
Although I had loads of songs from the previous 10 or so years of writing for bands, I was beginning to see that I wrote best when it was for me, with no original intention of sharing them. These songs were the basin in which I washed my soul; not for others ears…
This attitude changed when I started working on building sites, my boss was a fellow called Lloyd, and when we realised we had a mutual love for John Martyn we talked almost nothing but music. It transpired Lloyd was recording an album of folky songs with an excellent fiddle player and producer, Simon Walker. As soon as I heard Simon's recording and fiddle playing on Lloyd's songs I knew I had to follow suit.
My original plan was to record an album with just vocals, guitar and fiddle but when I met Jose and she kindly lent her brilliant voice and piano skills to the recording of French Place – I began to think differently.  I wondered who else I could get involved to enhance this album and it suddenly dawned on me I was surrounded by talented and generous friends. This is when Together We Are Taller came to life. From pre-production help and instrumentalists to art-workers, press and sales – I have been totally over-whelmed by the way everyone has chipped in and that is why a mere thanks list would not have been enough. Together we have definitely been taller.
To me this album is an accessible and honest account of a 20 something chap or chapette living in these times when suddenly everything becomes a little more apparent; you're a little bit too broke, a little more ambitious, a little in love, and a little bit scared, but, hopefully, we can see the sunshine through the clouds, and maybe even enjoy the clouds too!"
Until next time.